Vacationers across the globe are constantly seeking out ways to enjoy particular times of the year. Many who live in colder climates find the winter season quite brutal and often search for a destination that allows them to escape for some or all of the winter freeze.
Royal Holiday Vacation Club is always willing and ready to facilitate trips to warm-weather dream vacations or other winter wonderlands where the weather is more tolerable. Below are some peaceful and adventurous destinations to travel to during winter.
Yountville, California
Located in the heart of Napa Valley, this location is ideal during the winter, when the crowds are typically scarcer than usual, and the air is crisper. There are 80 romantic guest rooms in Hotel Yountville with outdoor living space and cozy fireplaces.
The concierge can arrange for guests to enjoy private tastings at one of the approximately 200 wineries nearby.
Sea Island, Georgia
Located along the picturesque coast of Georgia, this old-fashioned destination is perfect for quiet relaxation. Southern hospitality is at every turn, and the blue waters of the Atlantic Ocean are at your door.
You have the option of flying into either Jacksonville or Savannah. Once there, you can stay at The Cloister, a beachfront property with excellent service that will make your vacation unforgettable.
Room rates are cheaper during the cold season, and some restaurants are easier to get into. If you love golfing, a few special packages are offered on Sea Island to guests of The Lodge and The Cloister.
In addition, there is the opportunity for golf lessons on the Seaside Course with a well-known professional. Furthermore, there is clay pigeon shooting nightly, a bagpiper, and you can grab a BMW for an afternoon excursion.
There is also a spa where you can luxuriate among the indoor waterfalls.
Park City, Utah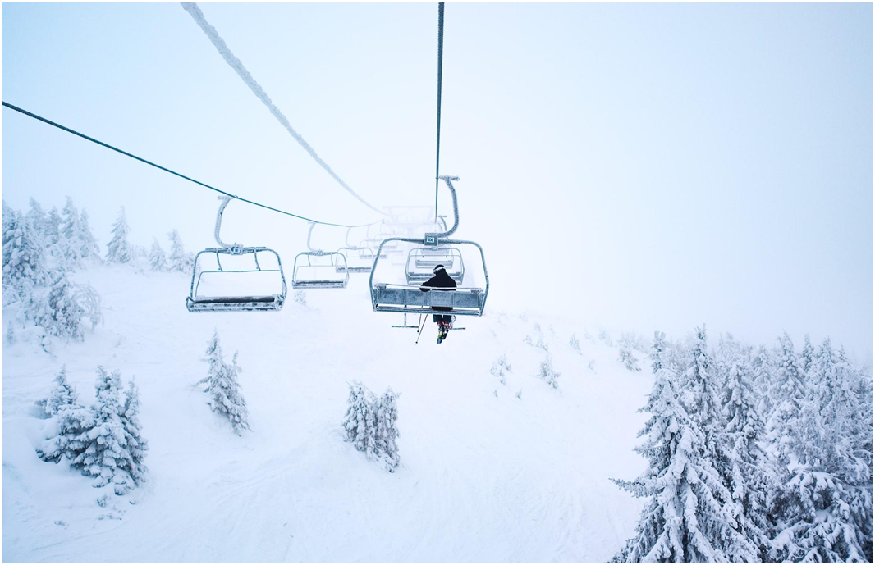 Packed with award-winning restaurants, charming art galleries, and shops, Park City is the place to explore renowned ski resorts, including Park City Resort, Canyons Resort, and Deer Valley Resort.
Whether you want to explore the hundreds of ski runs or rent snowmobiles, this is the perfect place for a mountain or winter wonderland adventure. It may not be for everyone, as it's not an escape from the cold, but adventure-seekers will love Park City.
Carlsbad, California
A less jam-packed alternative to famous Southern California beach cities, this location is merely 30 minutes north of the flurry of activities for which San Diego is known.
Vacationers can hike along the lagoon, spend time at LEGOLAND, take in the craft beer scene, or peruse the art galleries.
Cancun, Mexico
The city of Cancun in breathtakingly beautiful Mexico has the reputation among some vacationers of being a vaunted playground for spring breakers. However, in addition to plenty of tequila and impressive nightlife, Cancun has a lot to offer.
The offerings include white sandy beaches with sparkling jewel-toned waters and glorious hideaways that are designed to assist you with forgetting about your winter woes.
There are so many hideaways that it could become overwhelming to choose the best place to stay. Suppose you are interested in finding a resort that provides a bit of everything, from a swimmable beach to family-friendly pools and intriguing nightlife. In that case, the Grand at Moon Palace is a great location.
Le Blanc Spa Resort might be ideal if you prefer not to lift a finger during your entire stay. With its butler service, infinity pools, and an indulgent spa that offers peace, quiet, and relaxation, Le Blanc is truly a tranquil oasis.
More Affordable Getaways With Royal Holiday Vacation Memberships
With over 30 years of experience operating within the travel industry, Royal Holiday Vacation Club has earned an outstanding reputation as being among the premier travel clubs.
With over 100,000 members across the globe, Royal Holiday Vacation Club is proud to provide its members with access to its affiliated resorts, hotels, cruises, and destination packages.
Members also access the Park Royal chain on the best beaches in Mexico, Buenos Aires, and Puerto Rico.
Members of this global vacation club have access to various benefits and thrilling adventures.  In fact, Royal Holiday Vacation Club has transformed the tourism industry by giving exclusive services and offers that make travel more affordable, accessible, and a lot more enjoyable.
Royal Holiday Vacation Club provides substantial discounts and access to top resorts worldwide. Members can visit the resorts and retreats in each region they travel to. Vacationers get exclusive access to club-owned homes, which further provides savings and discounts.
Royal Holiday rewards its members with special incentives and discounts throughout the year.  These include significant reductions on hotels, cruises, tours, and restaurants and offer several other perks.
In contrast to typical travel clubs, Royal Holiday distinguishes itself from the competition by providing its members with additional benefits.
Winter Vacationing with Royal Holiday Vacation Club
For many families, school and work typically allow for a winter vacation. With Royal Holiday Vacation Club, it is much easier to get everything set up, eliminating the need to worry about the trip's minor details.
It takes only a little bit of effort to get through the planning phase and be on the way to creating beautiful memories alone or with loved ones. The best part is that packages are much more affordable than itemizing everything.
The majority of winter escapes will offer much of the same things; however, some slight variances could sway vacationers one way or the other.
As such, you must pay attention to the various activities offered at the different destinations.  This will enable you to see what best fits your profile and who you will be traveling with.  It is about making a memorable getaway during the year's coldest month.