Greece holidays don't have to be spent lazing on the beach. When visiting the country, there is a tonne of outdoor things to try out thanks to the pleasant climate and diversity of rivers and mountains. The top outdoor sports in Greece range from cycling in Koufonissia to rock climbing in Meteora. Read down to know more about the 10 best adventure activities in Greece.
1. Paragliding
Feel like Ikarus, skydive over Athens and soar over the clouds (without crashing, of course)  or jump off the Corinth Bridge and enjoy the long-awaited adrenaline rush. Glide through Lefkada Island or the mainland with a paraglider and see the natural beauty of Greece from above. All of these extreme sports are available domestically and you should try them if you want to stimulate your heart. Book your Greece tour packages from India in Pickyourtrail and enjoy the best vacation ever!
2. Surfing
When people think of Greece, they usually think of its picturesque beaches, ancient monuments, delicious food, and scenic landscapes. Few people think about surfing, but it's time to add it to the list of things to do in the country. Despite being in the protected Mediterranean, Greece enjoys some strong winds that create the ideal waves for surfing (and all other wind sports you can think of). This makes surfing a popular sport as well as windsurfing. From the fascinating coast of Ikaria to the rugged landscape of Karpathos, Greece has many surf spots.
3. Sailing
You don't have to spend a day on a Greek beach. There are plenty of fun water activities on the boat, including sailing. Navigating the turquoise waters of the Ionian and Aegean Seas, discover forgotten and hidden coves and feel the breeze on your face. Whether you're taking a sailing course or want to spend the day at sea, there are chartered companies that rent yachts and offer lessons nationwide.
4. Scuba diving
Did you always want to explore the wonders of the deep blue sea? Diving is an exciting experience in Greece. Over 15,000 km (9,320 miles), the coastline is full of ideal diving spots to see marine life and admire the beauty of nature. You will find many diving centres throughout the country and islands ready to take you on a fascinating underwater adventure. All the craziest water activities you can think of can be found at Xtreme Water Sports on the island of Santorini. You must go to this location, even if you want to spend the afternoon lounging about sipping your drink and getting a tan on the beach. We've all fantasised about donning one of those fancy diving suits and swimming in a colony of fish in the deep blue currents at some point in our lives. So make it happen here.
5. Hiking
Hiking mountains, valleys and other fascinating landscapes. Whether it's a two-hour expedition or a four-day adventure, Greece has many trekking and hiking trails for all levels and age groups. And don't think you need to be stuck on the mainland. Islands such as Amorgos, Lemnos, Ikaria and Corfu are ideal for hiking.
6. Rock climbing
Contrary to popular belief, Greece is a mountainous country, with more than 80% of the land being made up of mountains. Thus, it is the perfect destination to be one with nature. Push yourself by scaling some of the country's impressive peaks. Visit Kalymnos, where rock climbing is the main attraction, or scale some of the mainland mountains, such as Olympus, Perion, and even Meteora.
7. Rafting
Get ready for a rafting adventure in Greece. Excellent outdoor activity for nature lovers and thrill-seekers. Rafting Greek waterways allows visitors to explore remote trails and marvel at breathtaking canyons and hillsides. Rafting on the  Evrytania, Epirus and Arcadia rivers in Greece is a year-round fun activity, the perfect outdoor activity that combines tourism, adrenaline and nature.
8. Sea Kayaking
If you wish to experience watersports in Greece, kayaking should be on your list as well. You can perform all of these activities in several locations, including Horizon Watersports, where you can also enjoy windsurfing and parasailing. There are other sports as well, like paddle boarding, that don't require as much stress. Paddle along the coast or in the open ocean to find remote locations. Or take a break in a small bay and travel to different islands. From sea kayaking tours on Santorini to week-long adventures around Skopelos, there are a variety of tour operators offering sea kayaking tours of all levels.
9. Skiing
Skiing is possible in Greece, did you know that? That is correct! Thanks to its vast and impressive mountains, Greek winter means snow and skiing. There are several ski resorts in the country where snow lovers can enjoy their favourite activities such as skiing and snowboarding. You can also go sightseeing nearby. Explore a small traditional village and sample the local cuisine. Greece could soon emerge as your next favourite winter destination.
10. Bird watching
Not all outdoor activities need to be accompanied by adrenaline. Greece is full of fascinating lakes and lagoons where bird watching can indulge in your favourite hobbies. A quick map of Greece reveals the diversity of local flora and fauna. Over 190 Important Bird Areas (IBA) Greece has pelicans, cormorants, ducks, seagulls, geese and eagles.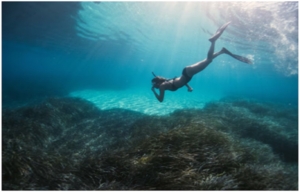 If you're in the process of organising a trip to Greece, we hope that the mentioned blog has given you some ideas for daring possibilities. Or if you're one of those people who likes to try new things frequently, these activities in Greece are unmatched when it comes to adventure or relaxing water sports. On your trip to Greece, make sure you do not miss out on this experience. Book your Greece tour packages from Pickyoutrail and experience the most amazing vacation ever!